---This page is under construction (updating)--- The general interface of Boyfriend (Kari) will be explained here.
The arrangements of interface has been changed! New to the game? Scroll down to read detailed introduction!
My Page 「マイページ」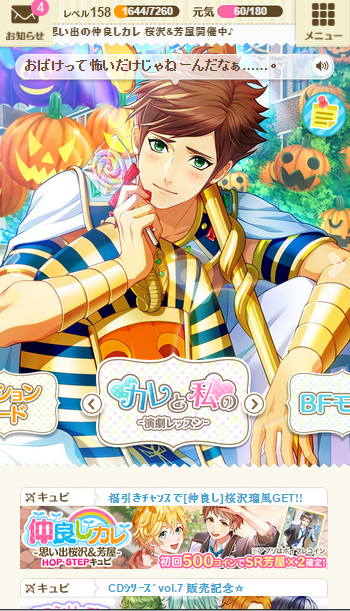 "My Page" will be your 'home base' while playing the game. It should always be the first place you check after logging in. An example of what "My Page" looks like can be seen at the right. 
You will receive all notifications, advertisements and news on this page.
In Depth
Navigation Bar


The Navigation Bar is located at the bottom of My Page. The navigation bar looks different between PC version (including Mobile browsers) and Mobile App version.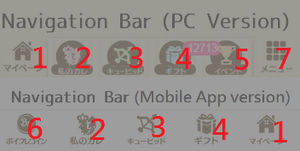 Character Section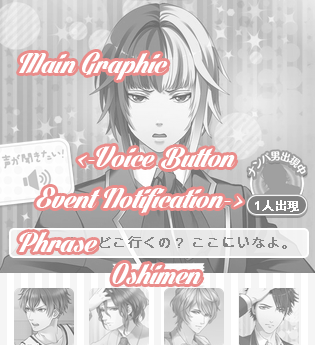 Play Buttons

These buttons are important in regards to levelling up an battling.

Cupid/Step Up/Increase Charm Buttons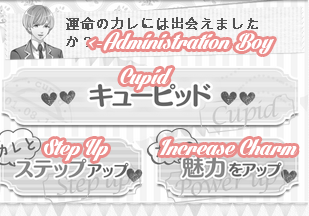 These buttons are for sub-elements of the game, such as levelling up cards and obtaining new cards.

Advertisements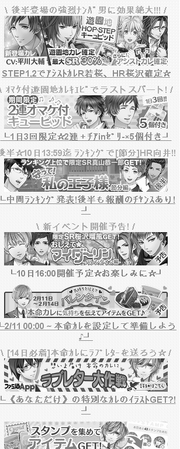 Generally, at the bottom of your My page, a whole pile of advertisement banners will be listed. You can choose to ignore these, but often you can get a good deal. If you are the type to buy coins, you could get a good deal by checking these as Ameba is fond of doing deals like "Spend x yen, receive 40% extra coins". 
These advertisements also inform you of what new Cupid cards are coming out - including what new SRs have been made available. Other advertisements include news for new events, writing a fan letter to your boyfriend to be featured in Famitsu magazine, Ameba challenges to get coins etc. If I have enough time, I'll start translating the important ones when this wiki nears completion.
Community content is available under
CC-BY-SA
unless otherwise noted.