The Main Menu is a very important tool in the game and it is advisable to memorize each button, especially if you do not understand Japanese.
Where to find the Main Menu
Edit
The button to access the Main Menu is found on the navigation bar at the top of My Page (or any page, for that matter) as shown below.

Explanation
Edit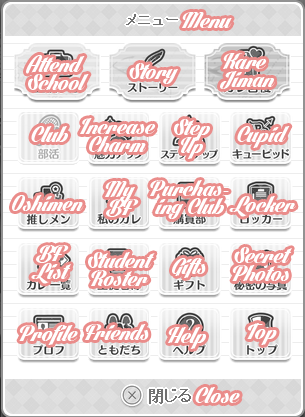 Upon clicking the Menu button, you will see a popup similar to the image at left, but in Japanese. This is your Main Menu.
Attend School : As explained in How to Play, this takes you to the area where you can complete missions. This does NOT take you to event missions, just normal missions.
Story: This opens up the Story tab.
Kare Jiman: This will take you to the Kare Jiman section.
Club: Currently unaccessible, but eventually you will be able to join a 'club' - a guild of sorts to play together with other players, receive benefits from joining and partake in club events.
Increase Charm: Takes you to the Increase Charm area.
Step Up: Takes you to the Step Up area.
Cupid: Takes you to the Cupid gacha page.
Oshimen: Takes you to where you can organize your Oshimen.
My Boyfriend: Takes you to the My Boyfriend page, where you can select your favorite Boyfriend to appear on your profile.
Purchasing Club: This is a shop. You can buy items such as Genkiriko, Cheer Gumi and Chests here, Sometimes you can also buy special event related items. You must always pay in coins.
Locker: Where the items you already own are. Check it to find your CupiTickets, Genkiriko etc.
Boyfriend List: An album of all the cards you have collected so far. You don't need to hold on to the cards to keep them in this list (IE: You can merge them into another Boyfriend via Increase Charm etc).
Student Roster: This is one of my favorite places. You can find out all kinds of stats of the Boyfriends, as well at check out the amazing art of the cards, and their voices. All this data is recorded on this wiki under Character Database.
Gift: The list of gifts you are yet to receive.
Secret Photos: Takes you to the secret photo area. For more information on this, check out the Secret Photos page.
Profile: Access and edit your profile. You can change your name and your nickname here also, as well as see who has written on your wall.
Friends: View your friends, sent friend requests and incoming friends requests. More information on the Tomodachi page.
Help: Self-explanitory - takes you to the official Help page. Only helpful if you can read Japanese.
Top: Takes you to the very first page, when you first log in.
Community content is available under
CC-BY-SA
unless otherwise noted.