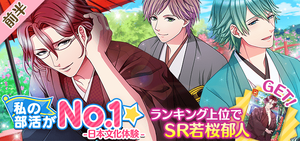 Start: 18 September 2015 16:00
End: 24 September 2015 13:59
How to play
Edit
Club Competition! Aim for No 1 Popular Club☆
Moribe Kuniharu: A popular competition which to increase yours club, will be occurred during specific times. Saionji Ren: Collect more popular pt than the opponent club.
Event's Basic Rules
Edit
If you come to this page(Event Corner) during the entry period, you enter the competition automatically!
Sakurazawa Ruka: "Once a day, anyone from the club come and entry, okay♪"
When the time comes, the popular competition will start! UP your Oshimen and aim for the victory!
Collect popular pt from the winning the showdown and GET the rewards☆
Outcome is determined by the sum of the popular pt of the club!
Hirose Kai: Anyway, it means that win against a lot of rivals, right?
When your club won, will GET winning points. You will get luxury rewards♪. Even…..limited boyfriend also….?
Exchange the proof of popularity, "Brooch" to get the limited boyfriends.
To GET the gold brooch
...?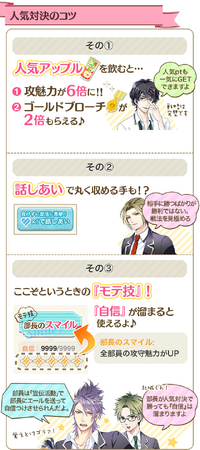 Popular Showdown Tips
Edit
When you drink the Popular Apple

……
Myojin Kengo: You can GET popular point too
Also discuss each other settle peacefully!?
GET the points without losing♪
Kujo Kishin: Winning the opponent is not just a victory. See though the tactic
Here come the time to use the "popular technique" (Club's Smile)! Gather the "confident" to use the technique♪
Head of the Club's Smile: All members of the club's offense and defense 50% UP for 10 minutes
Kitashiro Takeru: Members can brawl to send "confident" to Head of Club in Public Activity. Remember that!
Moribe Kuniharu: Kitashiro-kun! Head of the Club also can gather "confident" from winning in the popular showndown!
Login Phrases
Edit
Meet the boyfriends in the event
Edit
To get:

Popular pt 3500000pt♪
Final individual rank 1~500♪
Club rank 1~200♪

To get:

Popular pt 800000pt♪
Final individual rank 1~3000♪
Winning point 40pt♪
Victory 900 wins♪
Assisted Boyfriends
Edit
Assisted boyfriends help to increase the popular pt even more!!
If you several Assisted Boyfriends, all the assist effect will be pulsed!
If you several same Assisted Boyfriends, only the most stepped Assisted Boyfriend will increase the popular pt☆
| | | | |
| --- | --- | --- | --- |
| | | | |
| [Step 1] 30% UP | [Step 1] 15% UP | [Step 1] 5% UP | [Step 1] 5% UP |
| [Step 2] 40% UP | [Step 2] 20% UP | [Step 2] 10% UP | [Step 2] 10% UP |
| [Step 3] 50% UP | [Step 3] 30% UP | [Step 3] 15% UP | [Step 3] 15% UP |
Community content is available under
CC-BY-SA
unless otherwise noted.